I Hate Thinking Of Titles
Apparently I am capable of being so drunk by 9 pm that I forget the entire second half of dinner with my officemates. The bucket sized margaritas may have had a hand in this. Or the vodka that Bartender poured so freely. Or the lemon drop shots Miss V. decided were necessary.
And this morning, I arrived at 8 am to find that my officemates and the other 2 coworkers who came along for the ride last night had called in sick. I am here all by myself. Now, I drank all of them under the table. Mind you I am a seasoned professional, but I'm a little disappointed in my colleagues. I consider it a minor coup that I didn't wake up blind, and these bitches can't even make it into the office? Exactly what is the magnitude
of my hangover? I'm contemplating leaving the office to rent a car so that I can drive upstate just to find some roadside diner where I can ease the pain with a
greasy omelette made with a slice of american cheese and served with a side of those homefries that have that inexplicable orange tint to them, slammed onto the table by a middle-aged woman in a gingham apron wearing pineapple shaped earrings and pouring coffee that's been sitting on a warmer since 6 am into a chipped earthenware mug. Because some hangovers are so severe that only a cliche can help.
Last night also heralded Sister's evacuation of our palatial 9th Avenue digs. It's a bit weird, and hasn't quite sunk in that she no longer lives with me (though the absence of the lizard was immediately felt and celebrated). It's strange to think that if I want to talk to her I'll have to call her or (oy) go to Brooklyn. The last 2 years have definitely made me appreciate a lot of things about Sister, hate a lot of things about her, and generally made us much closer than I thought we could be. But now I can whore around again without feeling guilty for bringing guys home. Once again, I'm Mr. Brightside .
Today, thankfully, marks the beginning of my weeklong vacation. Sadly, my trip to Greece transformed into a spending spree on furniture, and I'll be lucky to make it as far as Fire Island while I'm off. Unless I get my act together today and hop the train out to hang with Allison on LI for the night before my father arrives in the morning. But, at least I won't be in the office, and I can concentrate on getting my shit together, getting my apartment cleaned out, and generally relaxing.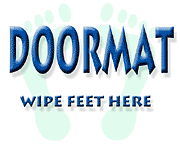 Until Houseguest arrives on Wednesday.
And Audrey on Thursday. And I'm certain that someone else will most likely decide that Labor Day will be a great time to descend on New York and enjoy my newly empty apartment. (Note: Audrey - don't take this personally. I love you and am happy to have you. I'm just a little harried and the arrival of Houseguest is making me want to stick hot pokers in my ears and scramble my brains.
So let's just recap: My vacation will be dedicated to Dad, Houseguest and Audrey.
Apparently I'm a big doormat who has no trouble rolling out the Welcome Mat.
I think there's roughly 6 hours between departures and arrivals where I might get a little Me time.
But not likely.